Calendar of Events
The 2007-2008 season is underway. See what is happening in your community.
Click here
We Need You!
Volunteer and become part of the FIRST experience.
Click here
Big Changes in NYC FLL!
Teams must qualify to participate in NYC FLL Championship. Important message for teams and sponsors.
Click here
Impact of FIRST
Brandeis University study shows that participation in FIRST Robotics increases likelihood that students go on to study science and technology.
Click here
FIRST LEGO League
Registration may close early. Click here to register.
FIRST Tech Challenge
Registration may close early. Click here to register.
PBS NewsHour Features FIRST
If you haven't yet seen this news coverage, you should. It really captures the spirit and importance of FIRST.
Click Here
Dean's Latest Project
Check out what Dean's working on now!
Click Here
FIRST on YouTube!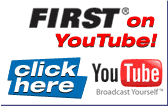 View thousands of stories and videos of FIRST Competitions and teams.
2007 Newsletter September Edition


For the July edition of our newsletter, please click here.
To view an archive of all newsletters, please visit our site map.
News from
New York City / New Jersey FIRST
September 2007

Andre Hamilton, FIRST alumnus and a graduate of Science Skills Center High School in Brooklyn, has just completed a 10-week internship at Lockheed Martin where he worked on next generation technology for the U.S. Army.

The project I worked on was the result of a $42 million contract that the U.S. Army awarded to Lockheed," Andre explains. According to Lockheed, the project will give U.S. Army surveillance aircraft greater ability to precisely locate the source of modern communication signals, significantly enhancing "situational awareness and real-time information for battlefield commanders."
Goldman Sachs Employees Take a Growing Interest in FIRST
With its $1 million, three-year grant in 1999, the Goldman Sachs Foundation was instrumental in bringing FIRST to New York City. More recently, employees at the Goldman Sachs company continue the tradition through their fundraising and volunteerism, helping to bring the FIRST experience to more and more kids across the City.
In February 2007, Goldman Sachs employees, led by Tami Rosen, vice president for human resources with the company's technology division, conducted a Bowlathon that raised more than $165,000 in support of New York City FIRST through over 1,100 individual contributions.
From Brazil to Polytechnic via FIRST
Paulo "Marc" Novais's journey from Brazil to the Bronx has taught him many lessons, but he might not be beginning his freshman year at Polytechnic University this semester if he had not been involved with Lehman High School's FIRST Robotics team.

Marc remembers meeting Evan Weinberg, a teacher at Lehman, when he started school in September of 2004. "I told Mr. Weinberg that I was interested in civil engineering, and he said that we would be talking about all sorts of engineering during our FIRST team meetings."

Click here for more about Marc...
Polytechnic Awarded $200+K Grant to Bring FIRST to Bed-Stuy
Polytechnic University has been awarded a $200,000+ grant by the Independence Community Foundation to bring FIRST programs to a group of 10 schools in central Brooklyn as part of the Central Brooklyn Robotics Initiative (CBRI).

"We are very pleased to be leading this university-community partnership," explained Polytechnic President Jerry Hultin. Hultin added, "There are kids in our community who may not yet realize the great opportunities that careful preparation in science and technology can afford them. We look forward to helping them come to those realizations."
Donald Bowers Joins NYC/NJ FIRST Team
Donald H. Bowers, with more than 20 years of experience in community affairs and corporate philanthropy at Johnson & Johnson, has joined the New York City / New Jersey FIRST team as co-regional director. Working with Randy Schaeffer and Ana Martinez, Donald's area of focus will be fundraising and development.
Donald brings a very unique set of interests and skills," stated Randy Schaeffer. "He really knows the corporate philanthropy side. Plus he shares our passion and commitment to helping kids to be part of the FIRST experience."
"What in the world is FTC?" you ask. FTC was FVC!! You ask again, "What in the world is FTC?" FTC is the "FIRST Tech Challenge", formerly known as the "FIRST Vex Challenge."
The FIRST Tech Challenge is FIRST's mid-level robotics competition for high-school students which uses a more affordable and accessible kit of parts. Like other FIRST programs, FTC uses robotics to engage teams of kids in the process of technological innovation then brings communities together to celebrate the achievements of their young men and women working smart in science and technology. Also, like other FIRST programs, the ultimate goal of FTC is to enable more young people to discover the excitement and rewards of science, technology, and engineering.
For more information about the upcoming season, please click here .
More about FTC...
FIRST Alumni Make FIRST Teams Possible
One challenge we face bringing FIRST to under-resourced communities, is that there are fewer companies who employ people with technical skills. Volunteer technical mentors are essential to the success of any FIRST Robotics team. In communities like the Bronx for instance, one source of expertise is FIRST team alumni who go on to post-secondary technical education and return to help their old team.

One such dedicated individual is Reuben Bridges, now an alumnus of Morris High School, who has been committed to the school's FIRST Robotics team since the day it began eight years ago.
On July 11th the Sony Wonder Technology Lab in New York City hosted more than 30 FIRST students from Lehman High School and the High School of Computers and Technology from the Bronx, Stuyvesant High School in Manhattan, and MS 217Q in Queens.

Students had an opportunity to meet Dr. Ryoji Chubachi, President and Electronics CEO, Sony Corporation. Dr. Chubachi spent nearly an hour with the students and was given the opportunity to drive some of the FIRST Robots on hand.

Read more about FIRST's Spotlight...
For more information, please contact:
NEW YORK CITY / NEW JERSEY FIRST
New Jersey Institute of Technology
Fenster Hall, Room 361
Newark, NJ 071021

E-mail - [email protected]
Phone - (973) 596-3234