New York City Regional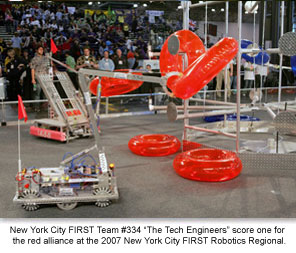 The New York City Regional is a FIRST Robotics Regional Competition that was held Friday, March 16 and Sunday, March 18, 2007 at the Jacob K. Javits Convention Center. FRC events are world-class celebrations of high school students, engineers, and mentors creating and discovering tomorrow's science and technology!
The 2007 competition included 53 FIRST Robotics teams from New Jersey, New York City, and as far away as the United Kingdom!. Twenty major New York City corporations were on-hand to offer information about summer jobs, internships, co-op positions, and other employment opportunities at our first ever career fair. With an additional 200 middle school teams in five boroughs, the 2007 FLL and FIRST Tech demonstrations only added to the excitement!
NJ/NYC FIRST would like to congratulate all attending teams on a wonderful three-day competition. What a wonderful mix of talent and enthusiasm in these outstanding competitors!
Match results Click here
Team standings Click here
Listing of awards Click here
Webcast archive Click here

Learn more about the NYC Regional Click here