NYC FIRST Robotics Competition at the Javits Center!


Continued from the May 2007 Newsletter...
Among the teams that qualified to go on to compete at the FIRST World Championship, April 12-14 at the Georgia Dome in Atlanta were:

The winners of the prestigious Chairman's Award, Team #1155, the SciBorgs of the Bronx High School of Science, sponsored by The Hennessy Foundation, the Alumni and Parent Associations of Bronx Science HS, Con Edison, Providge Consulting, and Pershing Square Capital Management;
For their work in their own community promoting the importance of engineering, the Techengineers , Team 334 of Brooklyn Technical High School, recipient of the FIRST Engineering Inspiration Award. Team 334's sponsors include the Brooklyn Tech Alumni Association, Con Edison, and SIAC;
The three teams making up the competition's winning alliance included:
· Team 354 - G-House Pirates from George Westinghouse HS in Brooklyn sponsored by Bloomberg, NYC College of Technology, the Port Authority, and Verizon;
· Team 1302 - Revolution Robotics from Pope John XXIII High School in Sparta, NJ sponsored by Thor Labs, BAE Systems, and Point Blank Body Armor;
· Team 2274 - Blazing Phoenix - a rookie team from Fordham Leadership Academy HS in the Bronx sponsored by Con Edison and the Port Authority; and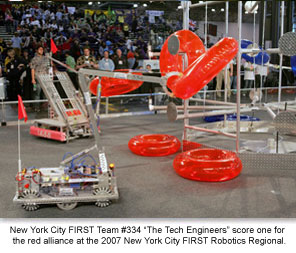 Setting a new precedent for FIRST, two teams from a single high school qualifying to compete at the World Championship, was Team 2265, the Iron Maidens , an all-women's rookie team from the Bronx High School of Science sponsored by Mr. Barry Weinberg winning the coveted Rookie All-Star Award.
Click here to see a full listing of award winners.
Also in attendance was FIRST Founder Dean Kamen. Throughout the day Dean spoke with students, mentors and sponsors. He obviously liked what he saw, and during the awards ceremony he took the time to play a video clip of the robotic prosthetic arm DEKA engineers are working on. One impetus behind creation of the device is the large number of American soldiers returning from Iraq as single or multiple amputees.
Dean thanked everyone for working on his homework assignment to send letters to public officials ranging from city council members to the President. He also said that he is looking forward to the NYC FIRST Regional becoming a Super Regional with two fields and 80 plus teams - a FIRST celebration second only to the FIRST World Championship at the Georgia Dome in Atlanta.