2007 Newsletter May Edition


For the January edition of our newsletter, please click here.
To view an archive of all newsletters, please visit our site map.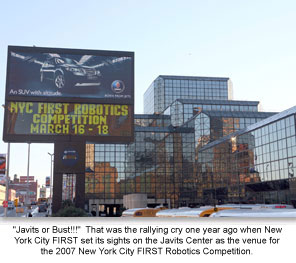 The 2007 New York City Regional was a huge success. Just over a year ago, New York City FIRST adopted the motto "Javits or Bust." Not even Mother Nature with her wicked ice storm could keep 53 teams and thousands of spectators from flocking to the Javits Center for the largest FIRST Robotics Competition in Big Apple history.
Click here to view the 2007 New York City FIRST Robotics Regional Sponsors & Supporters.
Governor Spitzer came on Sunday to see for himself what FIRST is all about. He told the crowd that even though March Madness is usually associated with the NCAA College Basketball Tournament the real winners were in attendance and doing a fantastic job representing the future.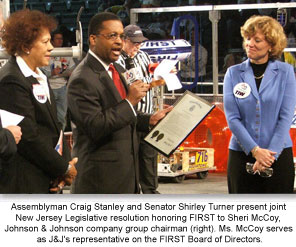 In February, the New Jersey Legislature passed a joint resolution honoring FIRST for its work helping students across the state acquire the knowledge and skills needed to compete in the technologically-driven global economy. The proclamation also declared the week of February 26 through March 3 as "Technology Innovation Week" to bring attention to the importance of FIRST's efforts in preparing New Jersey's future high-tech workforce.
Senator Shirley Turner, chairman of the Senate Education Committee, and Assemblyman Craig Stanley, chairman of the Assembly Education Committee presented a copy of the resolution to Sheri McCoy, company group chairman at Johnson & Johnson. The presentation took place as part of the opening ceremonies of the 2007 New Jersey FIRST Robotics Competition on March 2 at Sovereign Bank Arena in Trenton.


Spend three days in a hockey arena and you expect to see three hockey games. But March 1 - 3, 2007 brought out an entirely new spectator sport. The New Jersey FIRST Robotics Regional Event took over the Sovereign Bank Arena in Trenton, NJ, and hundreds of students competed like crazy for three long days. Fifty-nine teams from New Jersey, New York, Pennsylvania and as far away as Canada and Hawaii went head-to-head in this year's game, Rack 'N' Roll. Several high school teams received awards for design excellence, competitive play, sportsmanship, and entrepreneurial partnerships between schools, businesses, and communities.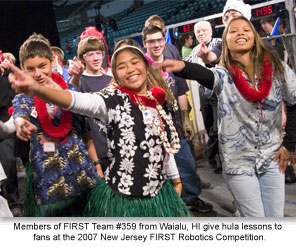 Congratulations to the NJ Regional Champions:
Team 25 "Raider Robotix" from North Brunswick, NJ
Team 103 "Cybersonics" from Kintersville, PA
Team 1302 "Revolution Robotics" from Sparta, NJ

And Congratulations to our
Regional Chairman's Award Winners:
Team #75, "RoboRaiders" from Hillsborough, NJ
Click here
to view the 2007 New Jersey FIRST Robotics Regional Sponsors & Supporters.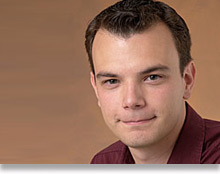 Meet Matthew DiCicco, a 1999 graduate and former captain of Mt. Olive High School's FIRST Robotics Team, MORT. After two years with Team 11, Matthew went on to pursue a Mechanical Engineering degree from Carnegie Mellon University. He graduated Summa Cum Laude in 2003, but wasn't finished yet. He entered MIT on a full-tuition scholarship as a research assistant in the Field and Space Robotics Lab, focusing on dynamics and controls, specifically for robotics applications.
Matthew strongly believes that his experiences participating on Mt. Olive's FIRST Robotics team gave him an enormous advantage in his engineering courses and research. "The FIRST Competition is perhaps the most effective and meaningful problem solving experiences anyone can have at the high school level," he recounts fondly. FIRST also taught him teamwork and professional cooperation - important ingredients for success in today's highly technical workplace. "I would encourage anyone looking to promote education in the areas of science and technology to look no further."


Please join us at the 2007 Monty Madness, an off-season event co-hosted by FRC Team 1403 and FRC Team 75! Families will find the entire day of Monty Madness to be most friendly and exciting. The Main Event consists of competitive rounds and will take place in the Main Gymnasium that will culminate in a series of championship matches to determine the three winning teams.
Monty Madness
Saturday, May 19, 2007

Montgomery Township High School
1016 Route 601
Skillman, NJ 08558-1799

For more information, please visit: http://www.montymadness.org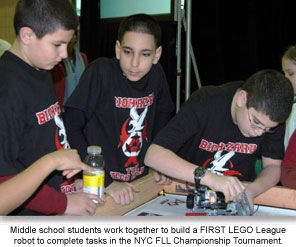 On January 27th and 28th more than 135 FIRST LEGO League teams rolled into gymnasium of Riverbank State Park for the 2007 New York City FIRST LEGO League Citywide Tournaments. It was the biggest gathering of FLL teams New York City has ever seen and one of the largest in the country too.
This year's Nano Quest Challenge, enabled students to explore the world of nanontechnology - the field of engineering dealing with devices and processes at the atomic and molecular level. Students got to use their imaginations to think about a world many times smaller than the period at the end of this sentence.

Click here to view the 2007 New York City FIRST LEGO League Sponsors & Supporters.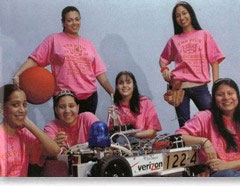 What happens to FIRST participants once they graduate high school? Two young women from St. Pius V High School in the Bronx exemplify how young people can take the momentum as FIRST team members and carry on to college.

Frances Troche and Angela Dolly were part of the first all-girls team in NYC. Currently, both study at Polytechnic University in Brooklyn, but if someone had told them six years ago that they would be Bio-molecular majors they wouldn't have believed it.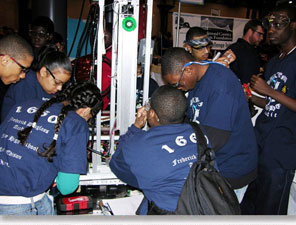 Business Week Editor Spencer Ante followed New York City's very own FRC Team 1660 "Harlem Knights" on their exhausting yet exhilarating robotic journey to the New York City Regional. He enthusiastically chronicles the Knights' passion to work together and excel in the sport of robotics, and to embrace the art of Gracious Professionalism.
The online article also underscores FIRST's critical role in inspiring young people to explore science and technology careers with mentors through hands-on experience with the support of corporations and educational institutions.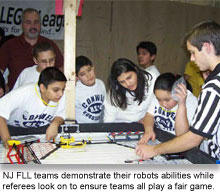 The New Jersey FIRST LEGO League Championship Tournament was held Saturday, December 9, 2006 at the Mount Olive High School. Forty-four Participating teams were challenged by this year's game, Nano Quest. Each team developed and solved a problem using research about molecules unseen by human eyes! Over 30 judges challenged the students in various skills.


In the Pirates of the Carribean movies Captain Jack Sparrow, played by Johnny Depp, always overcomes the impossible while making it look easy. Team #354, otherwise known as the G-House Pirates, from Westinghouse High School have their own superhero. His name is Cliff Mitchell and he is that rare individual that leads the way while making the difficult look easy.
Cliff has been working with the team since its inception in 2000. When asked about that first year Cliff said, "the first year was stressful because we didn't know what we were doing and spent too much time testing three separate designs." They may have had a tough first go, but the hard work paid off when the team won the Rookie All-Star Award.


For more information, please contact:
NEW YORK CITY / NEW JERSEY FIRST
New Jersey Institute of Technology
Fenster Hall, Room 361
Newark, NJ 071021

E-mail - [email protected]
Phone - (973) 596-3234
VISIT OUR WEBSITE
www.nycnjfirst.org

NYC/NJ FIRST | New Jersey Institute of Technology | Fenster Hall, Room 361 | Newark | NJ | 07102